We have got a chemical laboratory of over 100 square metres at our facilities which provides customers with timely technical assistance in line with their needs. GearChem's constant commitment to research and development allows it to generate innovation, propose solutions and ensure attentive quality control services on incoming raw materials and finished outgoing products. The …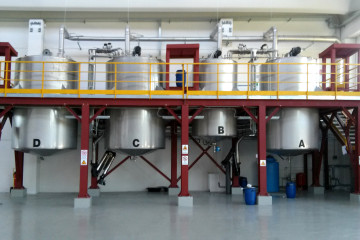 Gearchem opera principalmente nei settori quali: Trattamento Termico, Lavorazione meccanica, Idraulica e idraulica di sicurezza, Lavaggio industriale, Protezione antiruggine, Deformazione plastica e Lubrificazione, Addittivi speciali di processo.
About us
Gearchem is a company in the chemical industry specializing in the production, research and development of process fluids for the metalworking industry; it has reached its high level of efficiency and quality thanks to its high-tech facilities. Its production site in Castello d'Argile (in the province of Bologna) was conceived as a synthesis of innovative solutions. Its focus on workplace safety, energy savings and eco-compatibility has made GearChem a dynamic company that is perfectly integrated with the territory.
Working in respect of the territory and its people
Eco-compatibility, attention to safety, the workplace environment and energy savings: these are the inspirational daily guidelines of the new production site in Castello d'Argile (BO). Maximum functionality and versatility thanks to efficient and optimal production flow.
How we work
 INNOVATIVE SOLUTIONS
 ENERGY SAVINGS
 SKILLS
 EXCELLENT QUALITY STANDARDS
 TECHNICAL SUPPORT
 RESEARCH AND DEVELOPMENT
 QUALITY CONTROL
 AUTOMATED MANAGEMENT OF PRODUCTION CYCLES
 IMMEDIATE PRODUCT AVAILABILITY
 ECO-COMPATIBILITY 
 WORKPLACE SAFETY
Do you need a technical consultation and post-sales one? Contattact Us&nbsp&nbsp&nbsp
ASK AN ESTIMATE